How to Find Competitors Facebook Ads [Your 2020 Gudience]
Advertisers always hope that they can learn from excellent advertising cases, learn from their successful experience, and create more excellent advertisements. But advertisers often encounter difficulties in finding Facebook ads for competitors. In fact, the easiest way is to use the ad spy tool. The powerful search function only needs to enter keywords to find the information we need.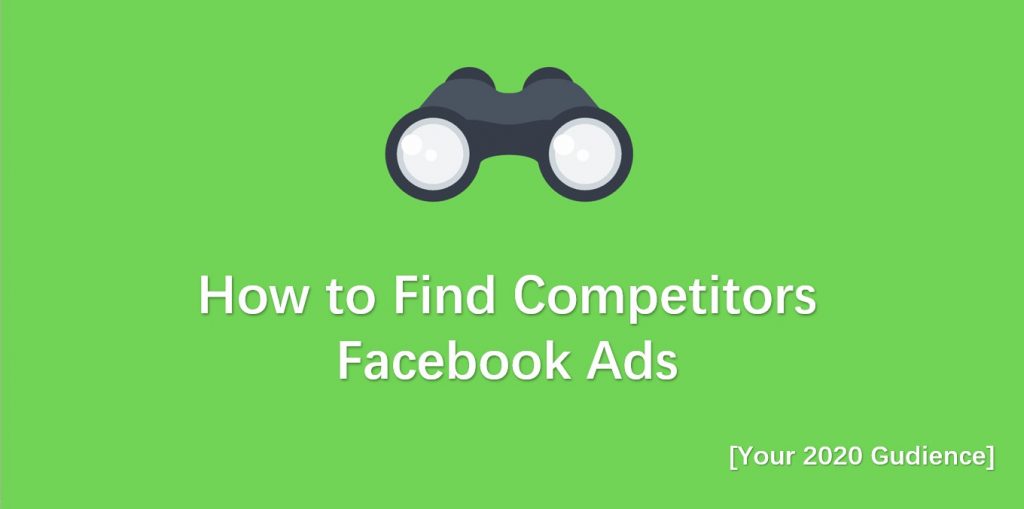 However, Facebook advertising monitoring tools have been updated, and many useful tools have been upgraded to paid versions, and some tools have even been shut down. Therefore, we need to constantly update and change the tools and means of Facebook ads of competitors to ensure that we can find the most accurate competitor advertising information. This article is the latest and most convenient Facebook advertising spy tool compiled since 2020. Let's take a look.
1. Facebook's Info and Ads tool
This is the simplest spy way. The tool is Facebook. In order to improve transparency, Facebook allows users to view all the ads currently running on the page through the "Information and Ads" tab. In other words, Facebook provides an ad list running on the current page to help advertisers browse directly.
Instructions:
First login to Facebook, find any page, here I open the homepage of 'Outback Steakhouse', you can find "Info and Ads tool" in the left menu.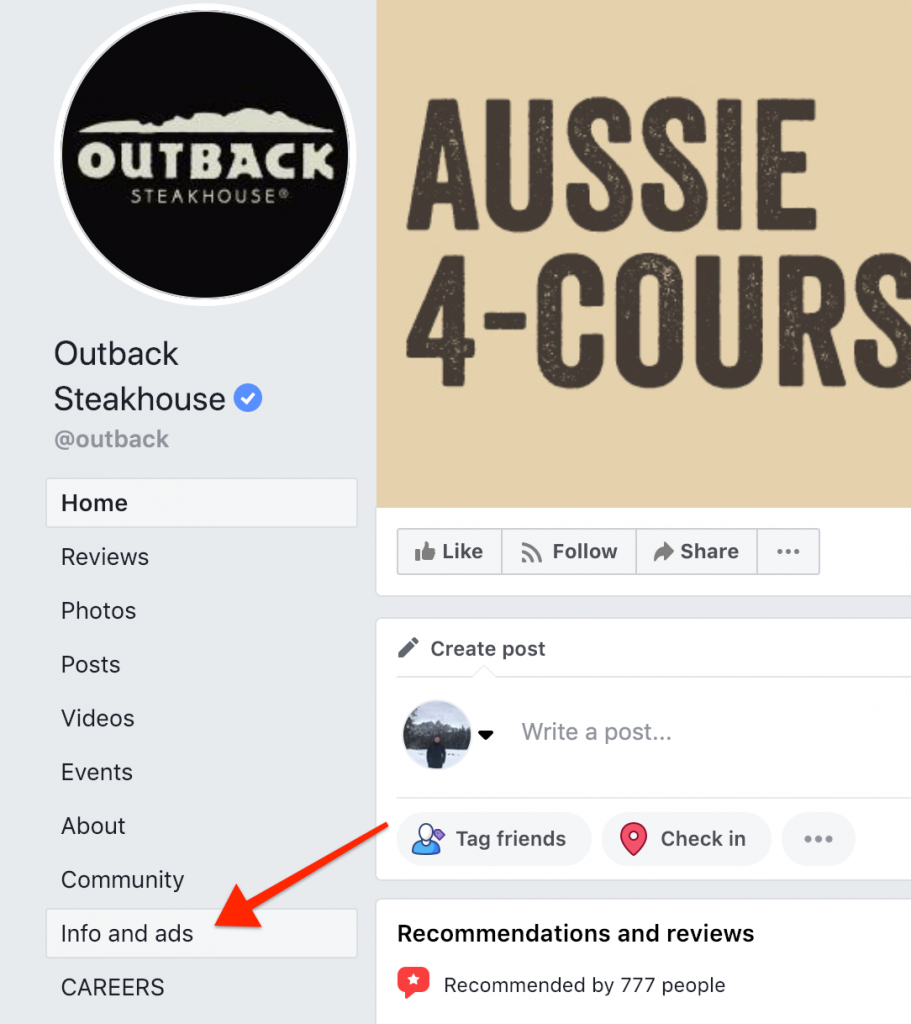 After clicking, you can see all the ads of Page running on this page.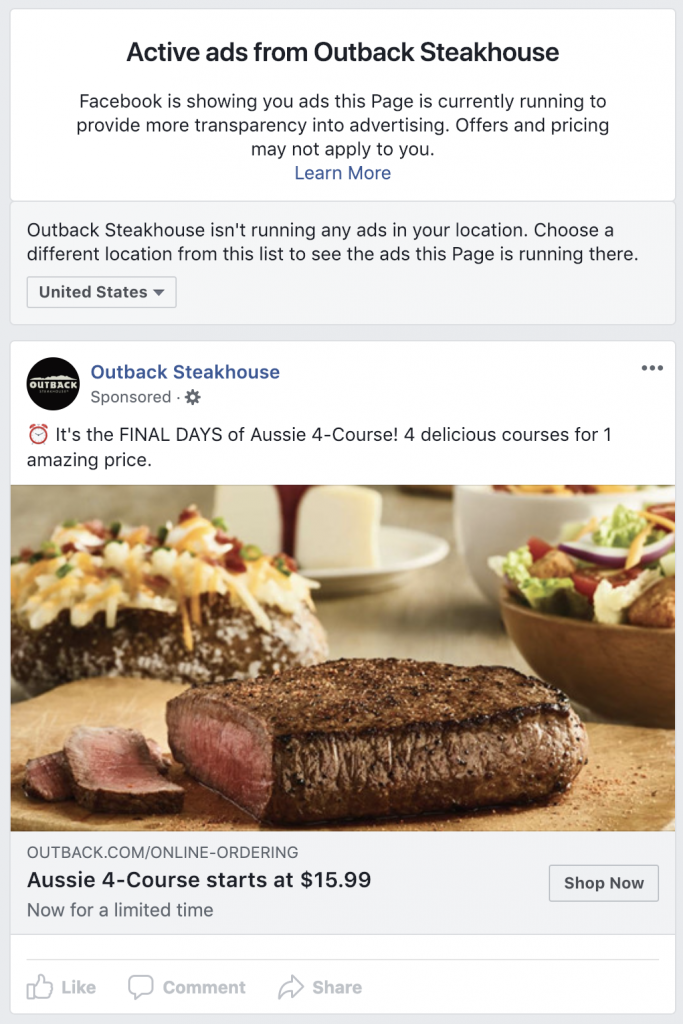 This way of viewing competitors' advertisements has great disadvantages. We can only randomly see the advertisements that appear on this page, and these advertisements may not be related to the advertisements we serve, and the advertisement list is very simple, we can't search and sort.
But this way will provide us with another inspiration. What kind of Facebook page do competitors' ads like to put on? We can also follow this analysis of the delivery rules.
2. Adlibrary Helper search advertising keywords
This is a Google plug-in tool for monitoring Facebook ads. It includes all ads within Facebook (except political ads). Its home page is a search bar, we can search for the keywords we need, this tool will display the relevant page pages and advertisements.
Instructions:
Install the Adlibrary Helper plug-in, enter the keywords we need to query on the home page, here I enter 'game', we can see that the query has a lot of results. The query results include the traffic of ads and the number of likes. These are all we need to pay attention to.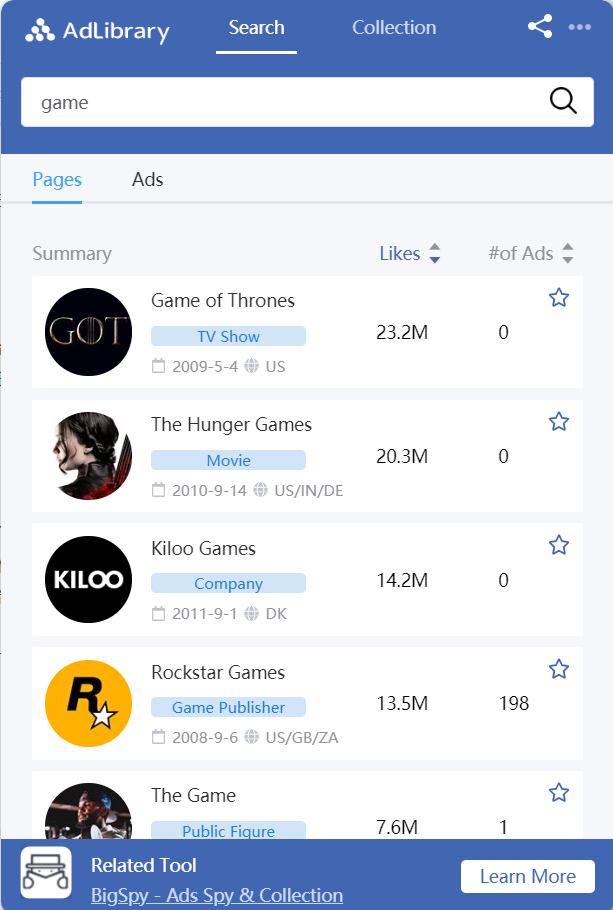 Find a suitable page, we click to enter the detailed advertising interface, here we take 'World Series of Poker Game-WSOP' as an example, click to enter the advertising page. Here we can see popular advertising information. We can also click on specific ads to view details of competitors' ads.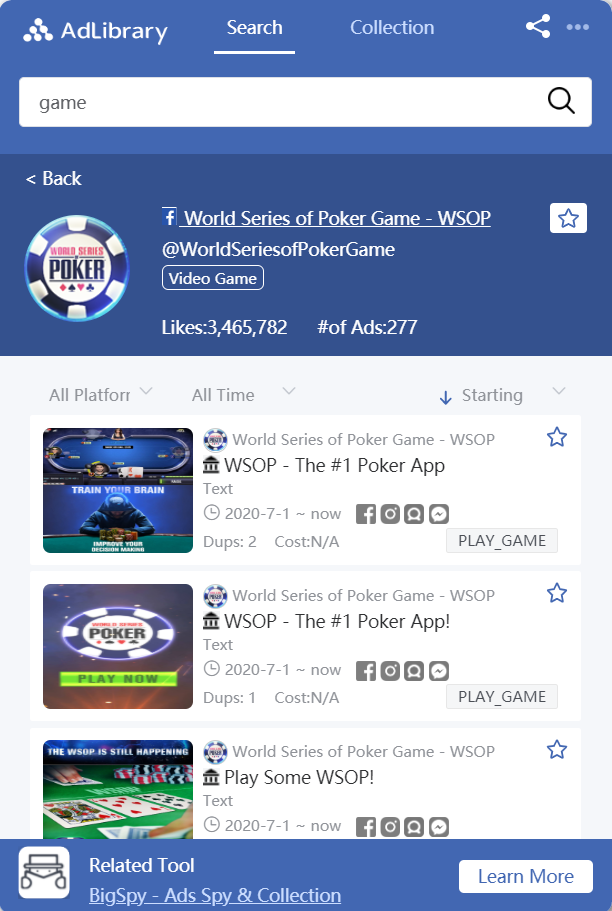 The above is the detailed operation of Adlibrary Helper to query competitors' ads. Compared with the first one, this method adds a search function and also has a classification. At the same time, we can also collect favorite ads, so that we can also see the data changes of advertising traffic, which is very good. The Adlibrary Helper homepage also has current hot words. We can also find inspiration here and see what kind of advertisements everyone is looking for. It is a good free tool.
3. Examples of Facebook ads by AdEspresso
AdEspresso is a very mature large-scale advertising analysis tool. From 2014 to 2020, AdEspresso has collected more than 170,000 Facebook advertising examples from various industries, including almost all the content of the advertising industry, and has also formed a stable marketing method.
Instructions:
AdEspresso is used in the same way as Adlibrary Helper, and uses keyword search to realize advertising spy. Open the search page, you can enter the keywords we need to search for search, you can also select the options below to search for advertising scope, the use of filters improves the efficiency of our search.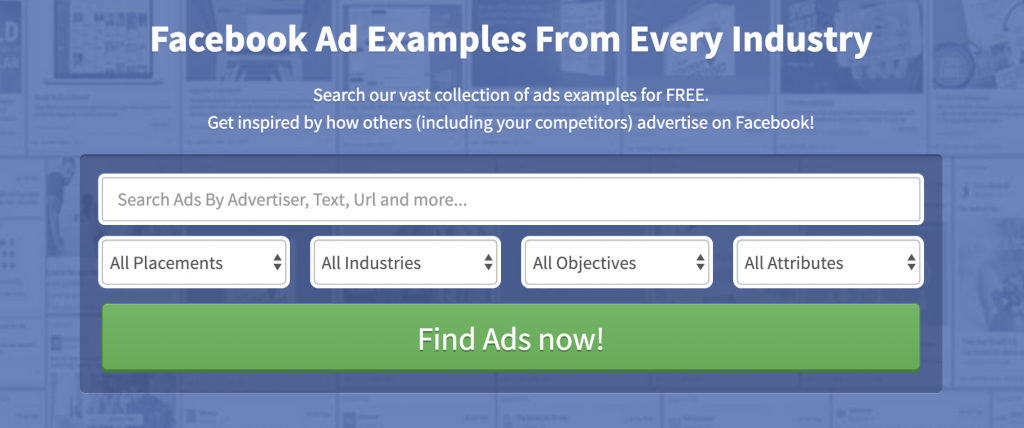 Examples of excellent ads returned from our search for "sneakers" are as follows, so that we can view the advertising content we need by type.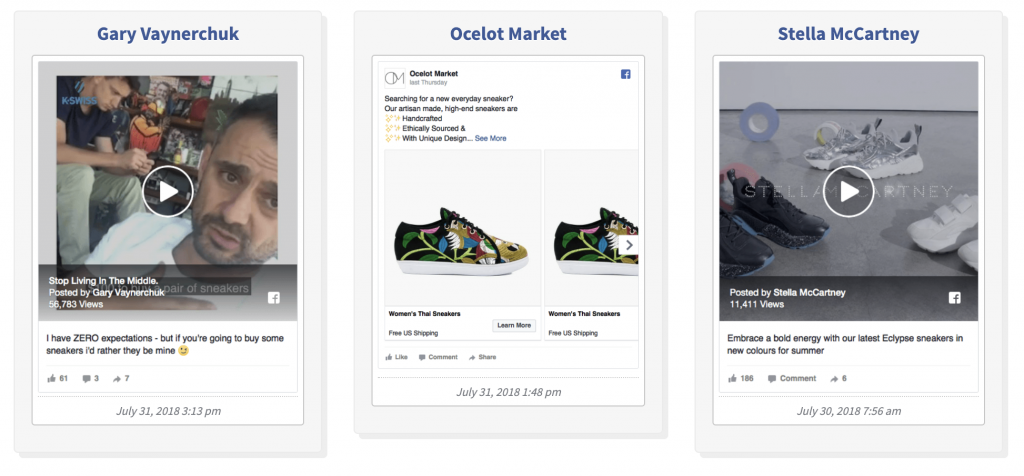 AdEspresso has a very good performance in viewing competitors' advertisements, in addition to various advertisement analysis functions, suitable for advertisers or developers. But this mature tool needs to be paid to use, but it is also very normal. Excellent tools need to be paid to show its value.
4. PowerAdSpy query competitor ads example
PowerAdSpy is a very commonly used ad monitoring tool. It has 6 million ads from 15 countries/regions, can monitor Facebook ads in real time, and is also a keyword search query.
Instructions:
Open the PowerAdSpy homepage, enter the keyword of the advertisement we need to find in the keyword area of ​​the left menu bar, and filter the keyword at the same time. After clicking the search, the right panel will present the advertisement information we need.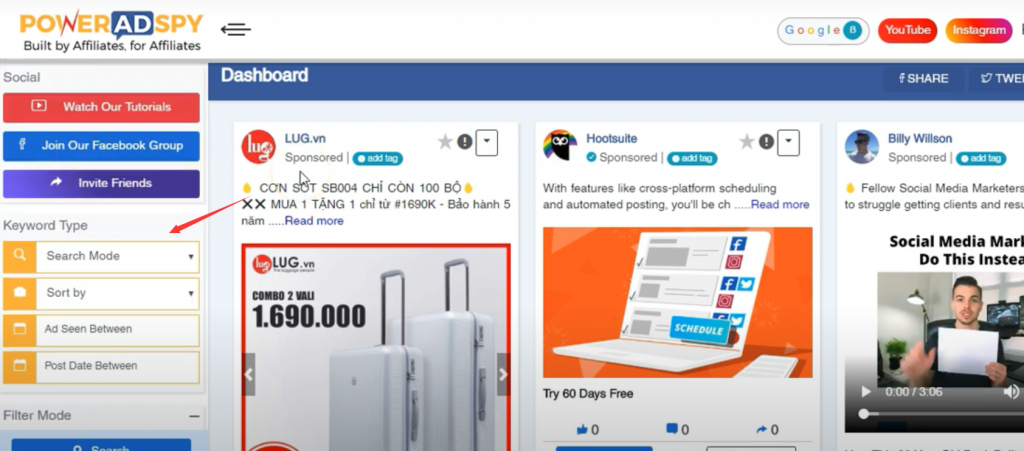 PowerAdSpy is a very professional tool for querying competitors' ads. The overall use is very good, but it needs to pay $49 per month.
summary
This article introduces 4 tools for finding competitors' advertisements, and explains in detail how each tool can find competitors' advertisements. To sum up here for everyone, the whole can be divided into two parts: paid and free.
If the company's funds are tight, you can use the Facebook query method and the Adlibrary Helper tool. The Facebook tool is simple to operate, but it is not very organized, but using this method will get unexpected gains. Using Adlibrary Helper will make a very good idea. This tool is not only free, but also uses plugins to query ads, which is much more convenient to use. And it contains all of Facebook's real-time ads for collection and data analysis, which is simple and convenient.
If you don't worry about funding, the latter two tools will be good recommendations. Both are large advertising analysis tools, and you can get more information about advertising after payment. PowerAdSpy is cheaper than AdEspresso. Of course, you can choose according to other functions of the product.