Turbo Ad Finder VS AdLibrary Helper: Which One Is The Best Ad Spy Extension?
Now, why would you want to spy on your competitors' ads, mainly because it's going to help you identify what their hook is, what their best performing headlines are, and it'll give you that funnel entrance. It allow you to get into their funnel and you can start to see in one place their front end cold traffic offers. You'll also be able to find their retargeting offers and the offers that they show later inside of their funnel. These are the best advertising opportunities for you. In order to better spy on competitors' ads, we need to choose the most appropriate tool. There are two powerful ad spy extensions, Turbo Ad Finder and AdLibrary Helper. They are the most popular ad spy extensions, which one is better? Currently Turbo Ad Finder is temporarily unavailable due to technical upgrades. Can AdLibrary Helper replace Turbo Ad Finder to successfully spy on our competitors' ads? We compare in following ways.
1. Comparison of operating methods
Turbo Ad Finder
Turbo Ad Finder is a Facebook ad spy tool developed by Useturbo. Turbo Ad Finder is used to view and analyze competitors' Facebook ad. When advertisers browse their Facebook, Turbo Ad Finder will clear all their friends' posts and show them all ads. Facebook spaces out paid ads at preset positions in between organic posts. Instead of scrolling through your newsfeed begging for ads, this extension lets you see ONLY ads. It sounds pretty scary, but it's great for advertisers.
AdLibrary Helper
AdLibrary Helper is also a Facebook ad spy tool, but its use is very different from Turbo Ad Finder. AdLibrary Helper stores all Facebook advertising data in Google extension, and we can query the advertising information through keyword search. AdLibrary Helper can display all the information of advertisers and advertisements, as well as the number of likes of advertisements. Searching advertisements by keyword can bring us more useful information.
Ads/advertisers collection
Collect your closely related advertisements/advertisers so that you can check their advertisements next time easily. In addition, after collecting the ad for a week, the number of likes and page views of the ad will be automatically compared with the previous week. We can observe the advertising data of competitors more conveniently. At the same time, when the advertiser publishs a new advertisement, we can also check it for the first time.
AdLibrary Helper provides hot keywords on the homepage. These words are frequently searched by users. It is very helpful for us to expand advertising content. In addition, AdLibrary Helper also has searching records, which becomes very convenient when we want to search the previous content.
Summary: Turbo Ad Finder and AdLibrary Helper are both Facebook ad spy tools, but their usage is completely different. Turbo Ad Finder uses a page display method to show all ads on Facebook pages, while AdLibrary Helper uses a search method for display. Both can find Facebook competitor ads, but AdLibrary Helper will display more competitors' advertising information. In addition, you can also collect the ads and view the data changes of the ads.
2. AD database comparison
Turbo Ad Finder
Turbo Ad Finder displays the advertisements placed on our Facebook page. The size of the ad library is related to the length of time we browse. As long as we keep browsing, there will be constant advertisements presented. But these ads do not have a good classification, we can only select the advertising information from the displayed ads one by one.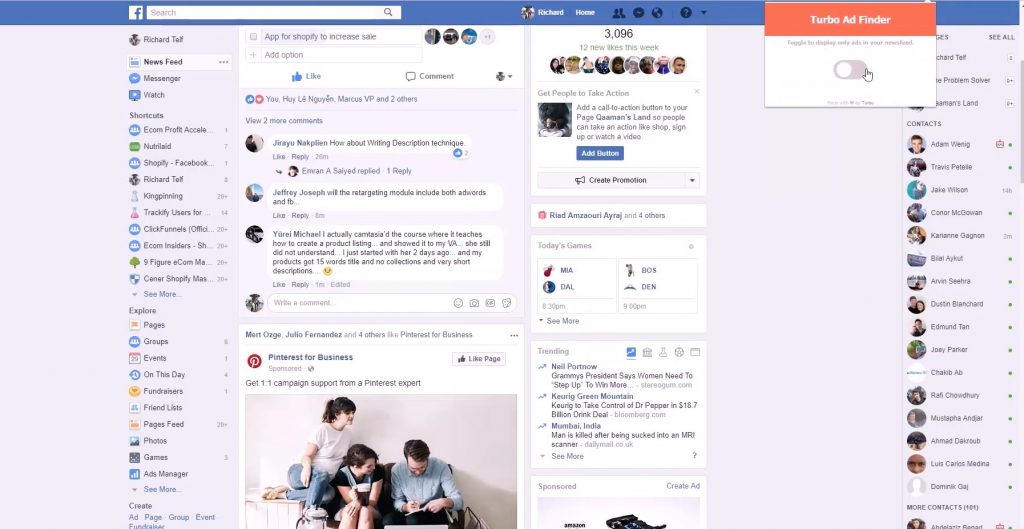 AdLibrary Helper
AdLibrary Helper's ad database contains all Facebook's ads. We enter keywords, then all ads that contain keywords in the content will be displayed for us, and the advertiser's information will also be displayed for us. We can sort by country, time, and platform to filter out the advertising content we need.
Summary: The ad database of Turbo Ad Finder and AdLibrary Helper are all Facebook ads. But because the way of ad presentation is different, the final use effect will be different. However, AdLibrary Helper has a filter, it will provide a great help to our ad screening.
3. Effectiveness comparison
Turbo Ad Finder
Many people left me a message saying that Turbo Ad Finder does not work. This is indeed a shortcoming of this extension. If you're doing things correct, you should see an ad on the first try. If you don't see any, refresh the page and try again. If you refresh a few times and see NOTHING, it means they probably aren't running ads. If you don't see ads, and saw earlier that they have pixel installed, it just means you aren't getting targeted. The main reason you wouldn't be targeted is for location. Even if you're super interested in this business, it won't matter unless you're within their geographic specification.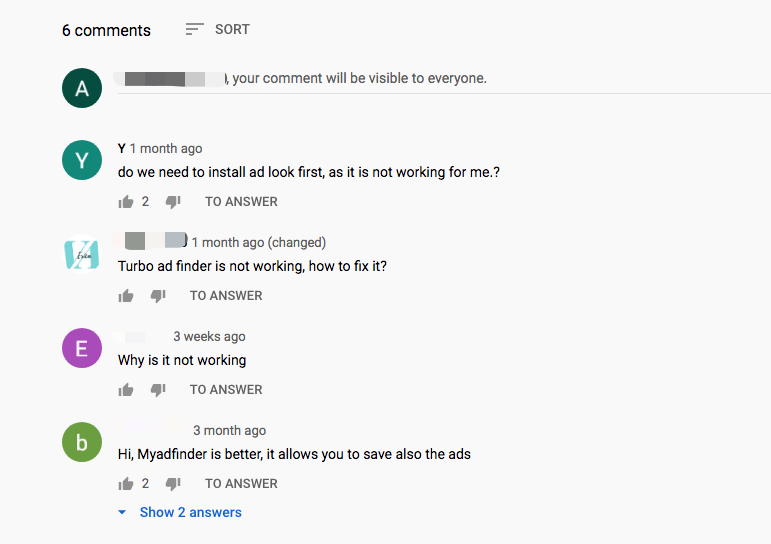 Now Turbo Ad Finder are working on something new and they are collecting user's feedback. If you have good suggestions, you can leave a message for them.
AdLibrary Helper
AdLibrary Helper works well at present. There are currently 4000+ users, and there are all good reviews at present. If you have someting difficult, you can leave me a message.
The final decision
Turbo Ad Finder and AdLibrary Helper are two free Google extensions, but there is a big difference in their use. Turbo Ad Finder is suitable for searching advertisements aimlessly, and AdLibrary Helper is suitable for searching advertisement contents purposefully. Now Turbo Ad Finder is not working properly, AdLibrary Helper can replace it to work for us. Overall, AdLibrary Helper has more features to help us spy competitors advertising.