Turbo ad finder alternative | Facebook ad library chrome extension
Turbo ad finder is a Facebook ad collection tool, through which advertisers can quickly obtain ad ideas and view competitor ads. Turbo Ad Finder has 200,000 installed users, there are many introduction videos in youtube, and the number of views of the tutorial is as high as 60K. I have to say that this is a powerful tool for advertisers.
Turbo Ad Finder Not Work
The last update of Turbo ad finder stopped on December 11, 2019. Turbo ad finder didn't work properly for a period of time after that. Turbo ad finder can be installed, but it cannot collect advertisements during use. Therefore, Turbo ad finder has a lot of bad reviews on Google Chrome, with an average score of less than 3 stars. Even with 200,000 installed users, Turbo ad finder can no longer be updated. The reason it cannot continue to work is that Facebook adjusted its advertising strategy. This is a big loss for advertisers. But more and more ad spy tools have appeared, NewsFeed Ad Finder and AdLibrary Helper has become a Turbo ad finder alternative.
Turbo Ad Finder Alternative
Features of NewsFeed Ad Finder:
NewsFeed Ad Finder is very easy to use, just download and install the extension, click the start button, you can see Facebook advertising posts. The usage of this tool is consistent with Turbo Ad Finder.
1. Competitor advertising analysis:
Advertisers' Facebook News Center will definitely have a lot of ads from competitors. By comparing the advertisements of various competitors, we can clearly see the changing trends of the industry. In addition to analyzing the advertising trends of competitors, we can also discover a new market segment and focus on them.
2. Find the best ads
Find the best ad while constantly refreshing the recommended ads. Ads will be recommended based on keywords and user search behavior. The ads that appear on Facebook are often consistent with our search goals. Advertisers can find the best ads among the recommended ads.
3. Find creative inspiration
Good advertising is inspired by learning. It can help advertisers find creative inspiration while constantly observing and comparing others' excellent advertising cases. The purpose of advertising is to increase the conversion rate. If a competitor achieves a high conversion, it means that their advertising is more in line with user pain points. Imitating the excellent ideas of others can also be transformed.
Features of AdLibrary Helper:
AdLibrary Helper's ad database contains all Facebook's ads. We enter keywords, then all ads that contain keywords in the content will be displayed for us. We can sort by country, time, and platform to filter out the advertising content we need.
1. Search Facebook ads through Page keywords
AdLibrary Helper has a search bar. If you know the page name of a competitor, you can search for all its ads. These ads will be displayed in the list, and the Facebook advertising data will also be displayed.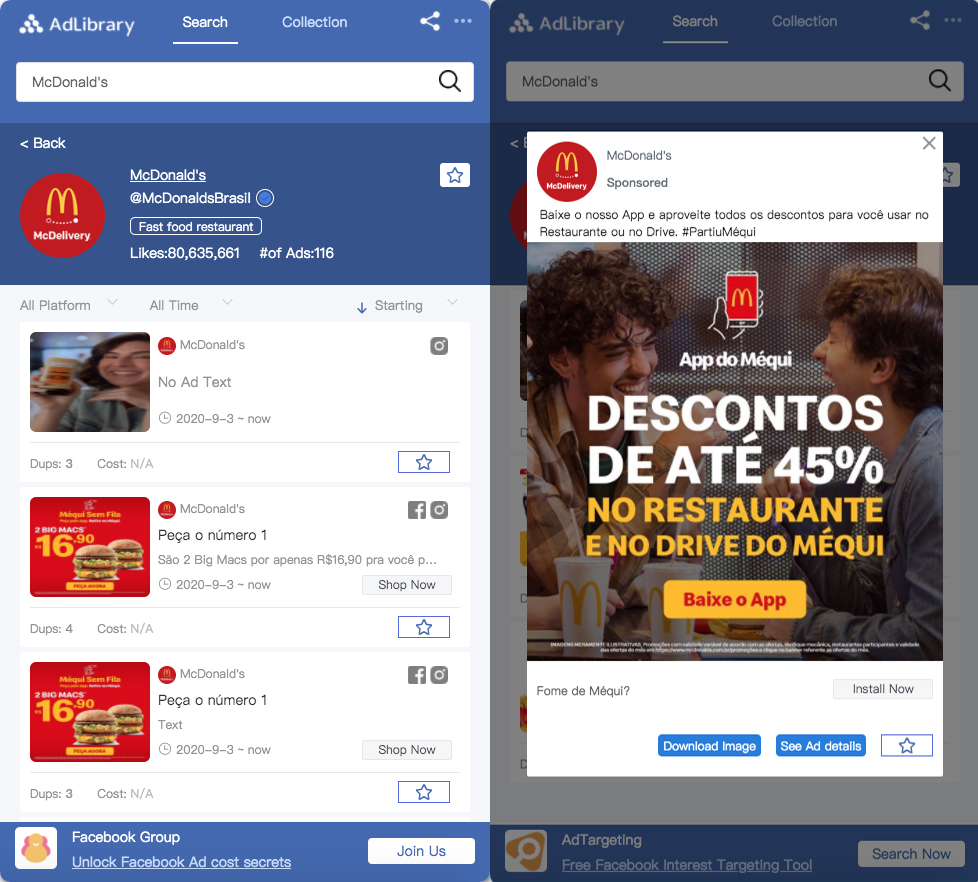 2. Save favorite pages/ads and track changes in targeted advertising data
You can collect the advertisers or advertisements you are interested in. After collecting for a week, AdLibrary Helper will automatically calculate the comparison between the current advertisement data and the data of the previous week. Changes in the number of advertisers' ads and ad's likes. This also makes it easier for us to view the competitor's advertisement again, and collection can be more convenient.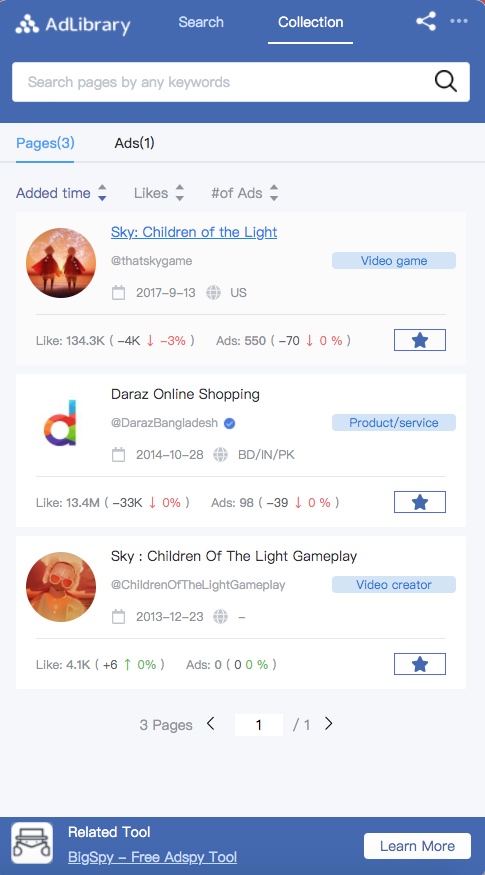 3. Advertising copywriting and material inspiration
A large number of advertising examples can continuously expand our advertising copywriting capabilities, and we can learn new advertising ideas from a large number of ads. Advertising materials can also be collected here, and the progress is produced in continuous learning.
Compared with Turbo Ad Finder, AdLibrary Helper advantages:
Compare the data of related pages directly after searching
Display search results in the list, convenient and intuitive
View ads related to search terms
Can collect and track ads
Turbo Ad Finder currently does not work, AdLibrary Helper and NewsFeed Ad Finder can be the best alternatives for Turbo Ad Finder in terms of functionality. AdLibrary Helper and NewsFeed Ad Finder also does not need to spend a penny, no need to register an account, you can track all Facebook ads. Hope you can try AdLibrary Helper and NewsFeed Ad Finder.
Other Expansions
Facebook Ad Cost Calculator
---
Enter advertising data to quickly obtain CPC, CPM, CPA, ROI and Roas