How To Perform Competitor Analysis? | Ad Finder And SEO
Whether you are building your own website with Shopify or doing other website marketing, you need to optimize your website reasonably. Many people spend a lot of money on advertising to optimize the website, but there is still no very good effect. In fact, the way to achieve rapid traffic growth for a website is to learn from competitors. Competitor research is an important part of marketing and is very valuable for understanding the overall situation of the industry.
Competitor Analysis
Competitor research can be divided into two aspects. The first is competitor marketing research. This part is mainly about competitor advertising analysis. Advertising drainage is a major reason for the fluctuations in the number of users on the website. Therefore, analyzing the advertising strategies of competitors allows us to do the same quickly harvest traffic.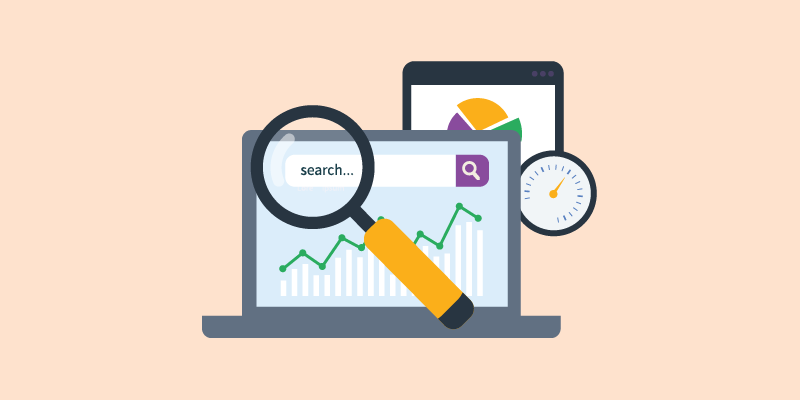 The second is competitor website analysis (SEO). SEO is the bloodline of a website. A reasonable website structure will allow search engines to quickly include it and achieve the purpose of quick access by users. To achieve rapid site drainage, internal SEO optimization, external advertising campaigns, and obtain these data from competitors and modify them according to our situation, we can achieve the goal of user growth fastest.
1. Competitor advertisement search and analysis
Identify a product that most closely matches yours, and then start to collect its advertising campaigns, and summarize the advantages and disadvantages of the advertising by analyzing the attention of the advertising, so as to create a better advertisement. For example, here is the Mailchimp ad as an example to see how it attracts so many fans.
Mailchimp is the first advertisement that we will definitely see when we search for email marketing in search engines. It is true. Mailchimp does a very good job in email marketing, but it can have such users cannot do without a lot of advertising. AdLibrary Helper is a Facebook ad search tool, where we can view all the ads running on Facebook, through which we can get the most advertising information.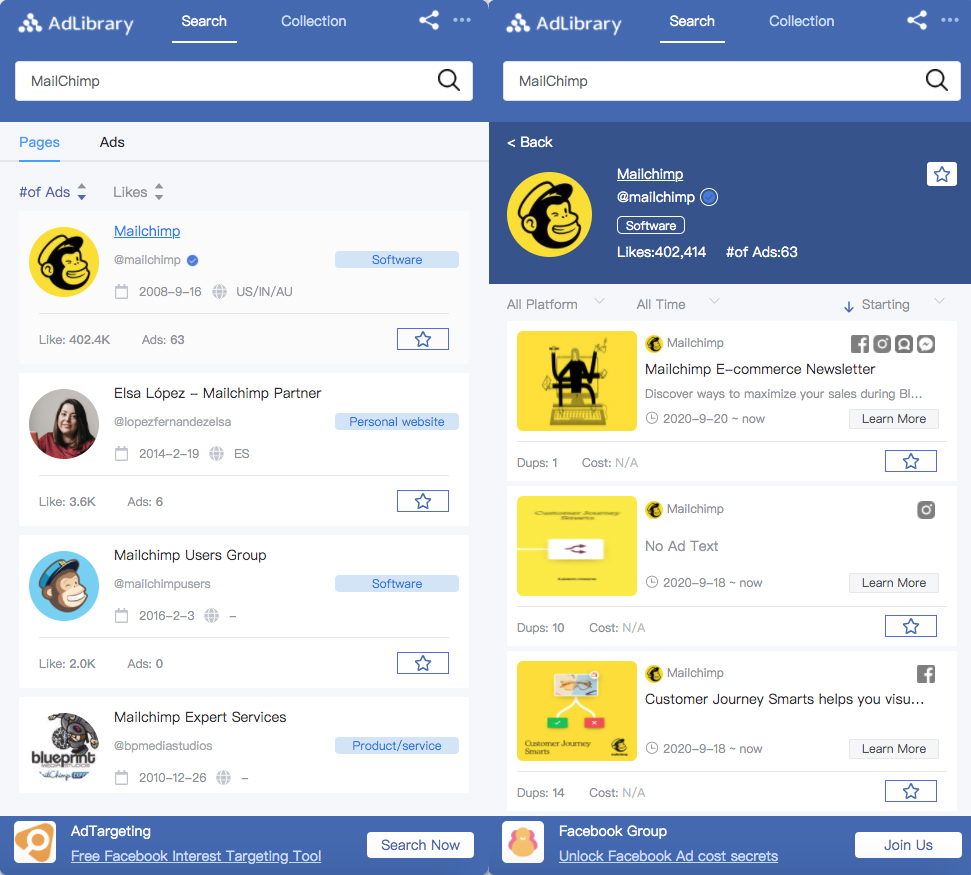 First use AdLibrary Helper to search Mailchimp, we can see that Mailchimp has recently placed 63 Facebook ads, and received a total of 402,414 likes. At the same time, there are user groups related to Mailchimp in the search results, and the icon turns blue. This is very good. Mailchimp does a really good job of color vision. If you don't believe it, let's take a look at its advertising content.
The color of Mailchimp's advertisements presented in front of us is mostly yellow, which is consistent with its icon. The icon is a monkey, which is a cartoon image. Most of the advertisements he still uses are illustrations and cartoons. Figure and the color tone remains consistent. I like it very much. Mailchimp does a very good job of visual impact.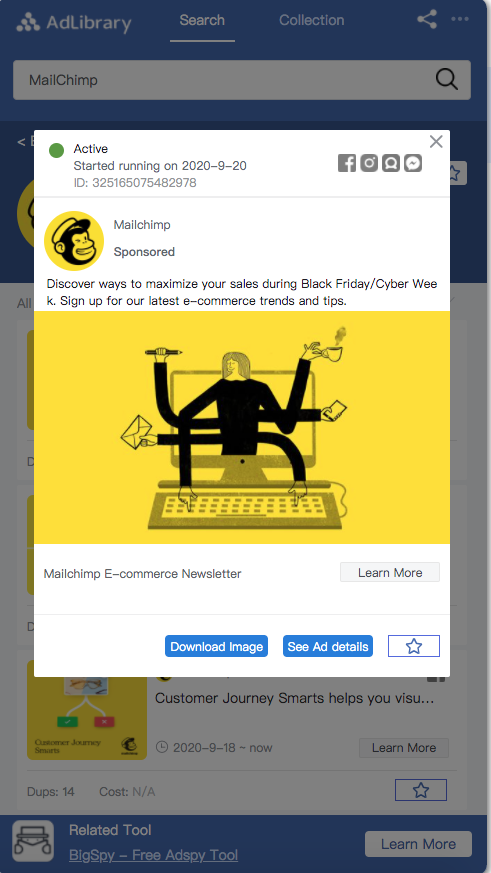 In addition, check a specific advertisement information, we can see that the advertisement is based on the creation of advertising content on the theme of Black Friday and e-commerce. This is a great idea. E-commerce sellers are currently carefully preparing Black Friday products, and it is very feasible to create explosive products through long-term accumulation of energy. Looking at several other Mailchimp ads, we can roughly summarize the following advertising rules:
Use illustrations with pictures, the style is consistent with the logo, and the colors are in contrast or consistent.
Use short and interesting videos, the style is still illustration, but it can bring new ideas
CTR copywriting uses "Learn More", Button must not be missing
Use festivals to link products to realize new advertising ideas
Putting different advertisements in different industries, what kind of goals the products can help the industry achieve
The above are some of the creativity and rules of Mailchimp advertising. Using such an advertising template, you can also create excellent advertising campaigns. More advertising data can be searched and viewed in AdLibrary Helper.
2. Competitor website analysis (SEO)
The same is Mailchimp, and we conduct SEO analysis on its website. For a website SEO analysis, we need to start from 5 aspects: domain age, domain traffic, keywords, top pages and backlinks.
Domain age
The age of a domain refers to the earliest registration time of the domain, and it also includes the time when it was first included in a search engine. We can obtain this date information from the Internet archive.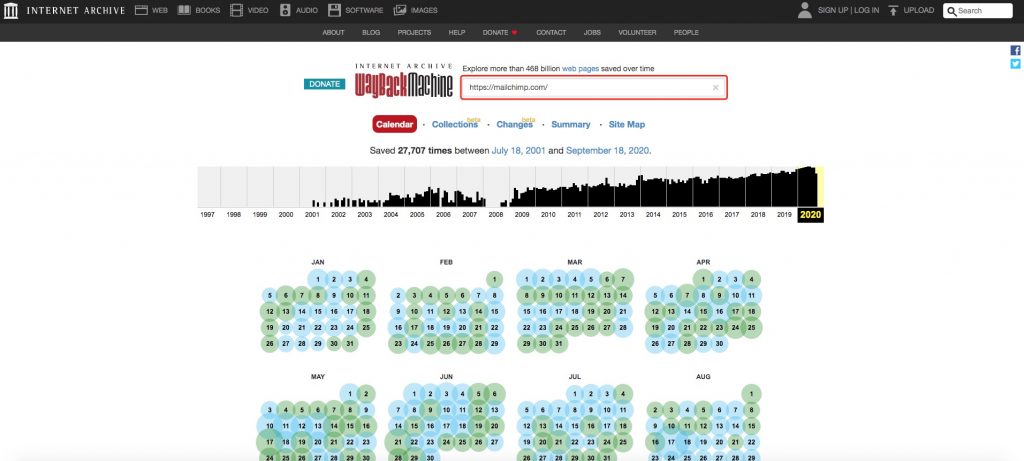 We entered Mailchimp's domain in the internet archive. We can see that the domain registration was in 2001, and then slowly increased, and there was a gap in 2008. But after that, the snapshot update has become very frequent. We can see that there are many snapshot updates every day in the following date table, which shows that the weight of Mailchimp has been very good. The older the domain, the higher the weight. The Mailchimp domain has been around for nearly 10 years, so the weight is very good. If your competitor is Mailchimp, your difficulty will be very high.
Domain traffic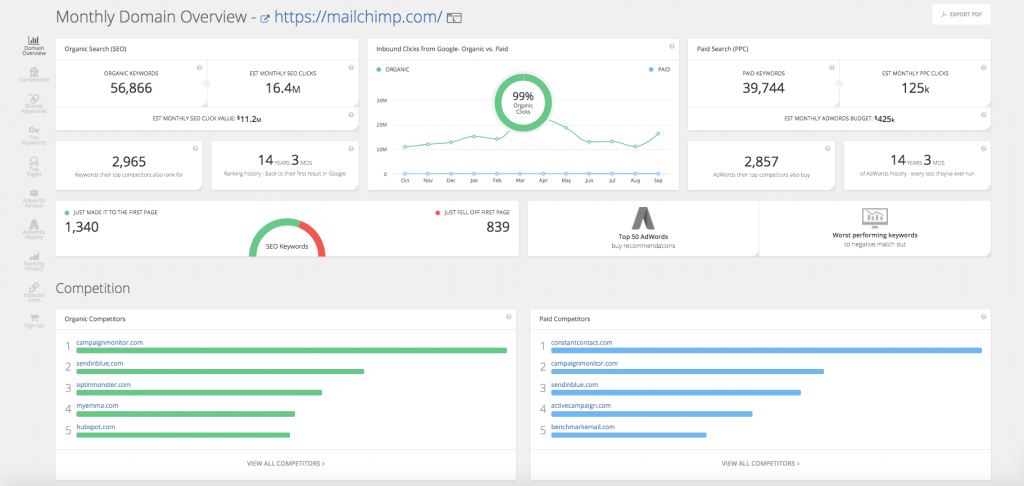 Using SpyFul, you can view the traffic by searching the domain. We enter Mailchimp's domain and we can see that its traffic can reach 10M every day, and the overall trend is rising first and then falling. The occurrence of such a trend will be related to changes in TDK, as well as advertising. Here you can also see Mailchimp's competitors, understand its competitors, and perhaps your competitors.
Keywords

Mailchimp's top keywords are mainly Facebook and email marketing, which are related to its products. It is very difficult to achieve such a ranking. At the same time, Mailchimp's paid keywords are mainly product names and email marketing. One is brand and the other is function, which is also the main function of advertising.
Top pages

Top pages mainly reflect the effective information pages of the website, and what content users like will be reflected here. We can see that the page that created the Facebook ad campaign has the most clicks, and that page has 720k clicks. Therefore, when optimizing our own site pages, we can consider the weight of the page and whether it is also the page that users pay most attention to. By analogy, the weight of the page is set according to the number of user clicks.
Backlink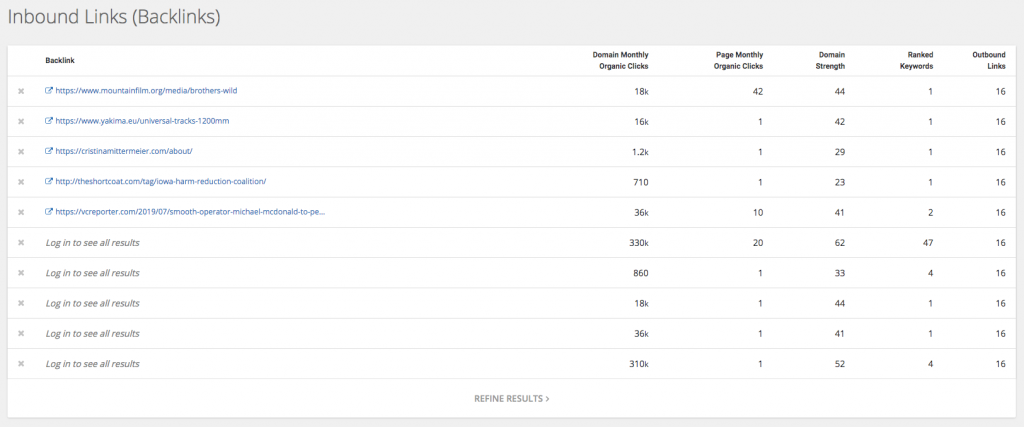 Backlinks are external drainage channels that can bring traffic. Relying only on internal website links often does not bring a lot of traffic. We can exchange links with other related websites to achieve drainage. Mailchimp has mountainfilm and yakima drainage links, and it has brought very big hits. But pay attention to setting "nofollow" when exchanging external links to avoid web page weights being assigned.
Summary
Competitor analysis is an important means of website growth, by analyzing the content of competitors to optimize their own website and advertising. You can't just optimize SEO, of course, you can't just create excellent ads. Only by optimizing the two simultaneously can we obtain excellent traffic. Hope it can help you.