Golf Ad Ideas & Facebook Advertising Guidance
I think you know that golf has great potential. It teaches players important lessons about building character while maintaining composure which can easily translate to real life. So you start to spend thousands of dollars to make professional and exquisite advertisements, but maybe the advertisement ideas you create with your hard work cannot attract people's emotions . In order to make your golf ads worth your time and money, ads must be created and distributed correctly. This article will give you some advice and guidance on golf advertising.
Golf Ad Ideas
Consumers usually make purchase decisions based on how the product feels, not just based on the images seen on the screen. Golfers have a true love for the sport, desire freedom, want to spend quality time with their loved ones, and have many other emotions. You have to meet these needs in your advertisements before the number of golfers will really increase. Here are some excellent golf advertising ideas searched by BigSpy. You may be able to get some inspiration.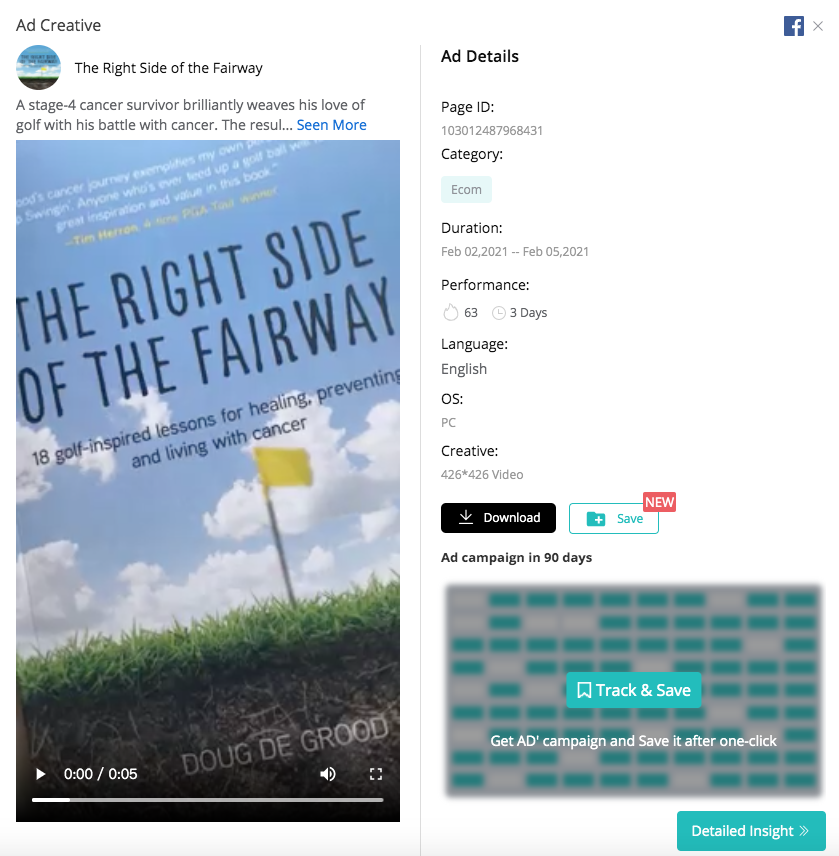 Your golf advertisement needs to have a story. This golfer who has been fighting cancer for four years perfectly blends his anti-cancer story with golf. Golf can purify the mind and fight diseases. This is a very good creative point of advertising. We can get warmth in the advertisement and indulge in the ups and downs of the story. This kind of advertising can often get very good feedback.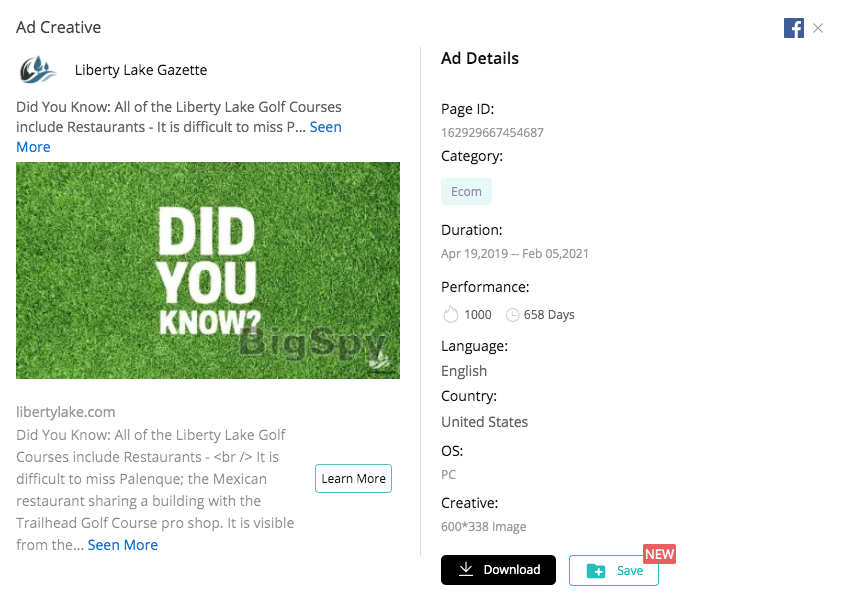 Or you need to build your golf course more in line with the needs of golfers. Golf itself is a leisure and decompression sport. People are to escape the stressful life and enjoy the beautiful environment. So you need to provide more leisure ways, such as a restaurant that provides delicious food, or a hot spring with music. "Liberty Lake Gazette" considers the audience very well, which makes golfers more satisfied.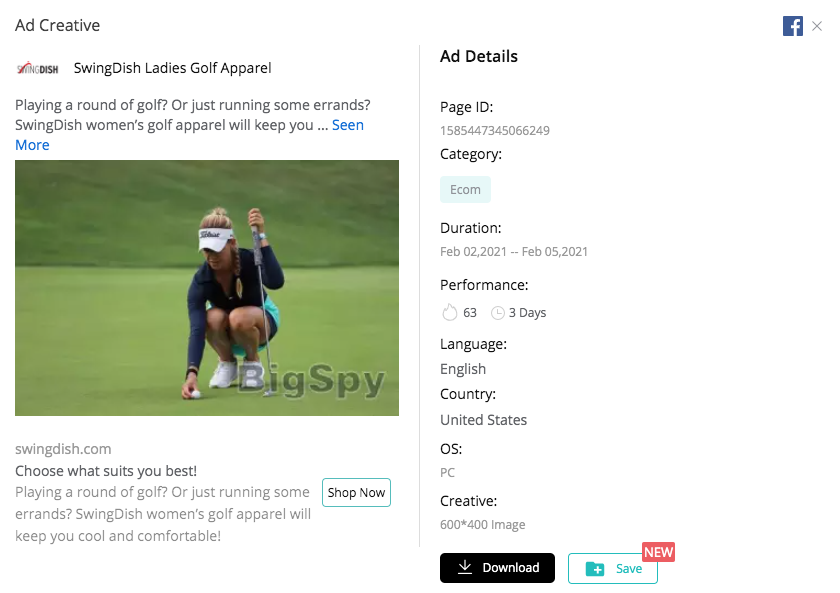 "Playing a round of golf? Or just running some errands?" This is a very interesting question. I think many non-professional golfers will empathize with this sentence and laugh. Yes, ridicule about the status quo of most people will get more responses. This is a rule that is good at summarizing, as an ad copy will greatly increase the click-through rate.
Golf Advertising Guidance
Target Golf Audience
Targeting the audience does not mean bombing. Too many ads will cause ad fatigue. Among those bombarded by ads, they will stop paying attention to them. In order to avoid this phenomenon, advertisers need to control the number of times people see their content and place ads on people who really want golf. We use AdTargeting to profile golf audiences. Golfers are mainly men between the ages of 25 and 44, and unmarried college graduates account for the vast majority. Therefore, when advertising, choosing these target groups can better target the audience.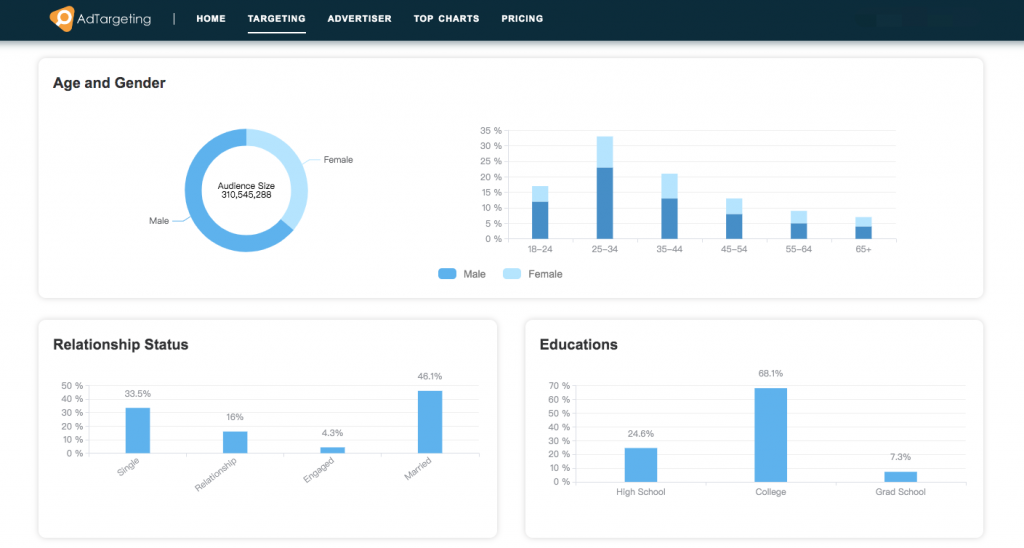 In addition, Android users will account for a larger proportion, and there will be more people collecting golf information on mobile phones. In terms of countries, the United States is the main target country for golf, accounting for 28.7%. More golf audience information can be viewed through AdTargeting.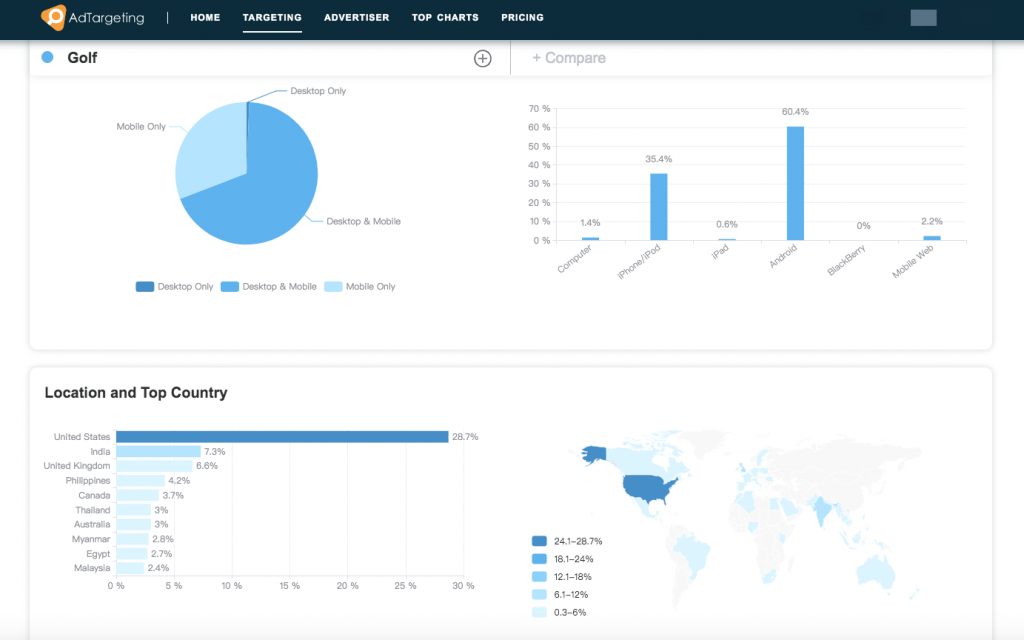 Control Golf Ad Costs
What are the interests of golf advertising, and what are the CPC and CPM fees for each keyword? Use ADCostly to view the following golf-related interest data.
| | | | |
| --- | --- | --- | --- |
| Interest | Audience | CPM | CPC |
| Golf | 310.55M | $7.55 | $0.42 |
| Volkswagen Golf | 35.15M | $2.53 | $0.19 |
| Golf course | 29.29M | $10.93 | $0.60 |
| Golf club | 15.32M | $9.68 | $0.72 |
| Golf ball | 8.29M | $12.30 | $0.96 |
| Golf Digest | 6.56M | $10.72 | $0.50 |
| Golf Magazine | 6.14M | $9.79 | $0.55 |
| Miniature golf | 6.07M | $5.67 | $0.67 |
| Golf cart | 6.06M | $7.45 | $0.47 |
| Callaway Golf Company | 5.96M | $8.68 | $0.64 |
| Golf Channel | 5.66M | $11.13 | $0.59 |
| Golf equipment | 5.04M | $10.53 | $0.58 |
| Golf Clash | 4.40M | $7.90 | $0.79 |
| U.S. Open (golf) | 4.23M | $11.19 | $0.62 |
| Professional golfer | 4.16M | $11.28 | $0.70 |
The audience of golf is about 310.55M. Its average CPM is about $7.55 and the average CPC is $0.42. We can use the CPC calculator to make some advertising budgets. For example, if I want to achieve 1000 clicks, the average CPC of golf is $0.42, and the cost budget calculated using the advertising cost calculator is $420.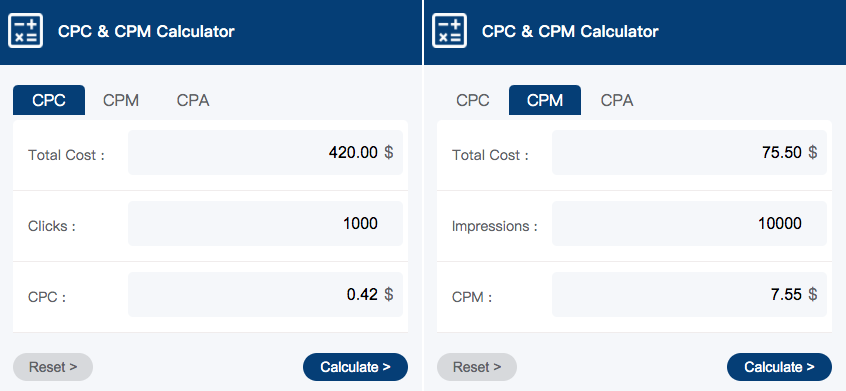 If you use CPM bidding, you need to consider how many impressions there are. For example, if I want to achieve 10,000 impressions, the average CPM of golf is $7.55, and the cost budget calculated using the advertising cost calculator is $75.5. Using the calculator can help us quickly specify the advertising budget, and using the ROI&Roas calculator can return the advertising effect in time.
What Should You Take Away From This?
Advertising is a key part of your marketing strategy, but golf managers often invest a lot of money in ineffective advertising campaigns in ineffective channels. In order to get the most from your golf course advertising budget, invest in advertising and use digital marketing channels. Attracting emotions while maintaining authenticity is the key to attracting golfers. Follow the suggestions above and you will gain something.