A Free AdSpy tool for Facebook Ads Library.
When you want to see a better ad on Facebook, you do n't know where to find it. Of course, you can go to Facebook to check related data, but this process is not convenient at all, and you can't track the advertisment you interset.At this time, you need a powerful tool to help you target Facebook ads faster.AdLibrary gives you even more insight into targeted ads your competitors are running, giving digital marketers a powerful new resource for gaining a competitive edge.
How to use AdSpy tool–AdLibrary to track Facebook pages and Ads?
AdLibrary is a Chrome plugin, you don't need to go to the Facebook advertising official website to view the creatives, just open a web page to use the plug-in to search for creatives.You can search more related ads ,and save them,you can track pages and ads you have saved.
First step: Add AdLibeary to your Google Chrome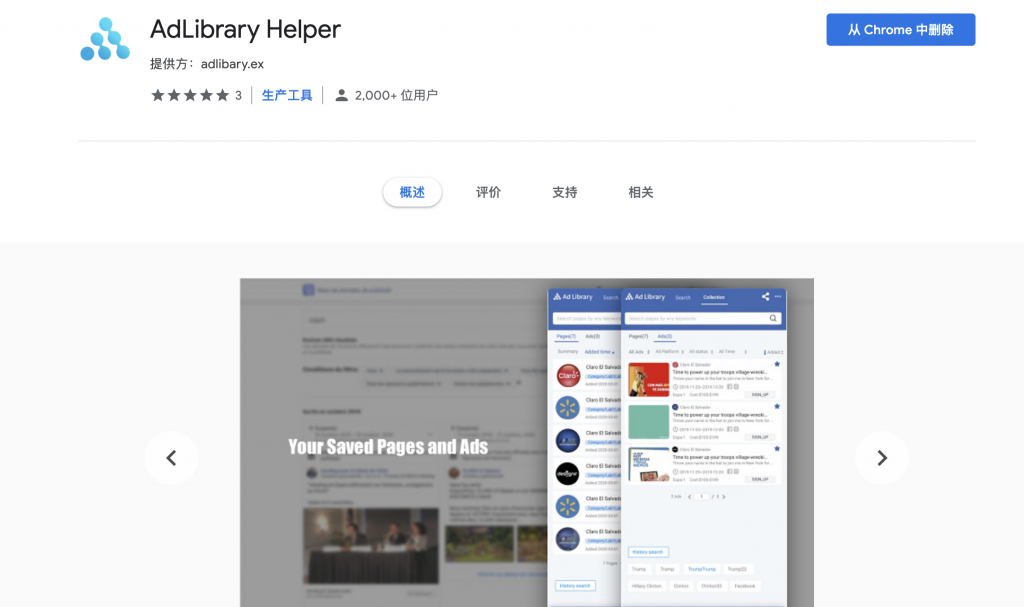 Second step:search pages and ads.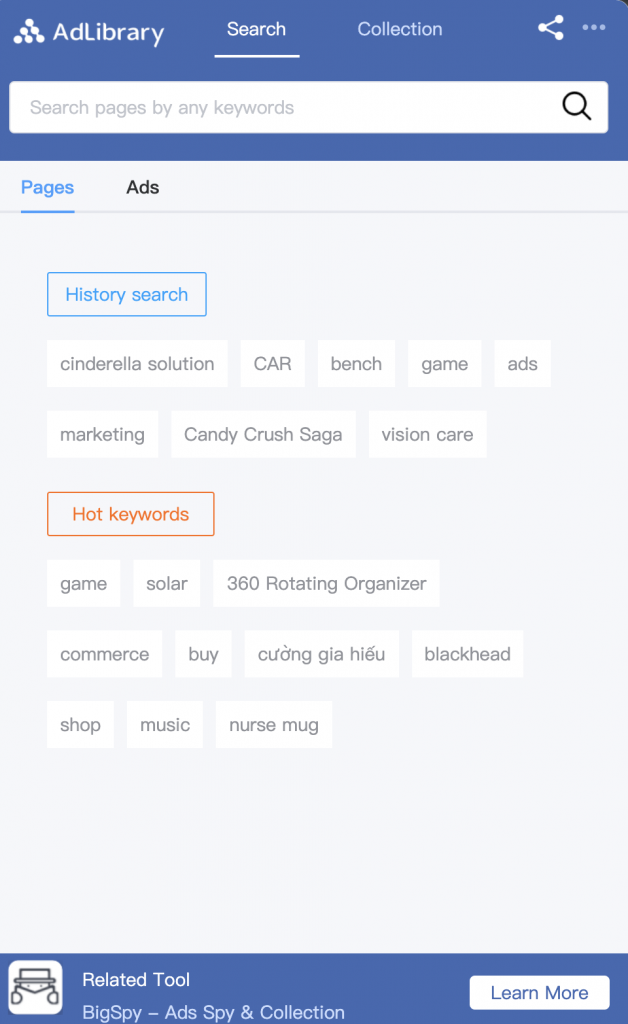 You can search for any key word, name or Page in the AdLibrary. For example, you may search for the names of political figures, Pages you follow, or a specific advertiser (like a competitor). For a political or issue-based ad, when someone searches in the AdLibrary, any ads that include the term searched may appear as well as ads run by Pages that include the term. However, ads that are not related to politics or issues are only found by visiting the Page in the Ad Library. Those ads can not be surfaced by keyword searches.you can also see some historical searches and popular recommendations.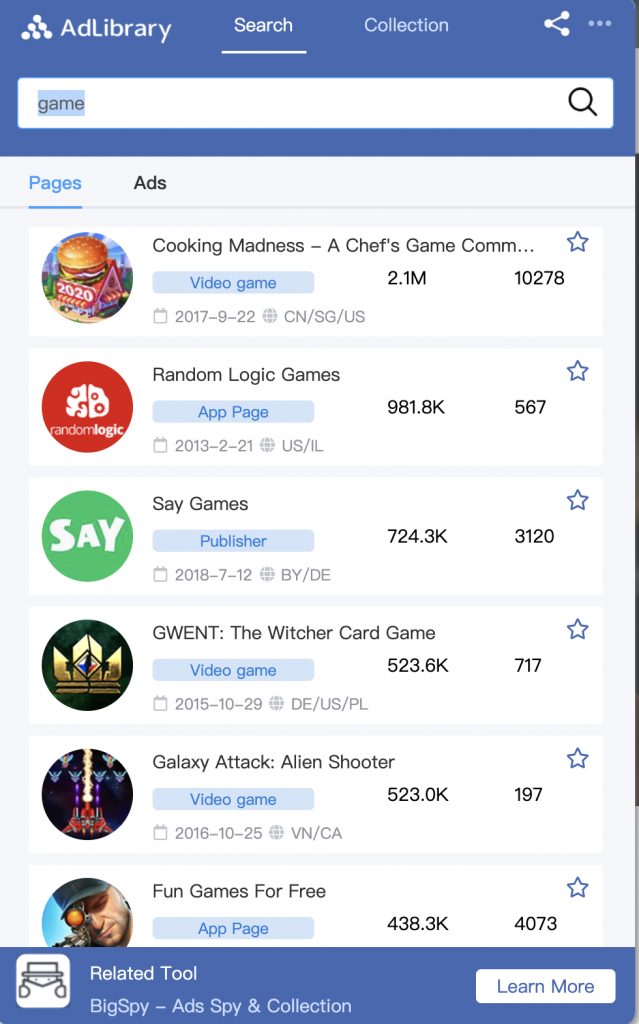 You can see a large number of pages and related ads, as well as the number of people 's like pages and you can save the pages.Then ,you click one page you want to see more detials.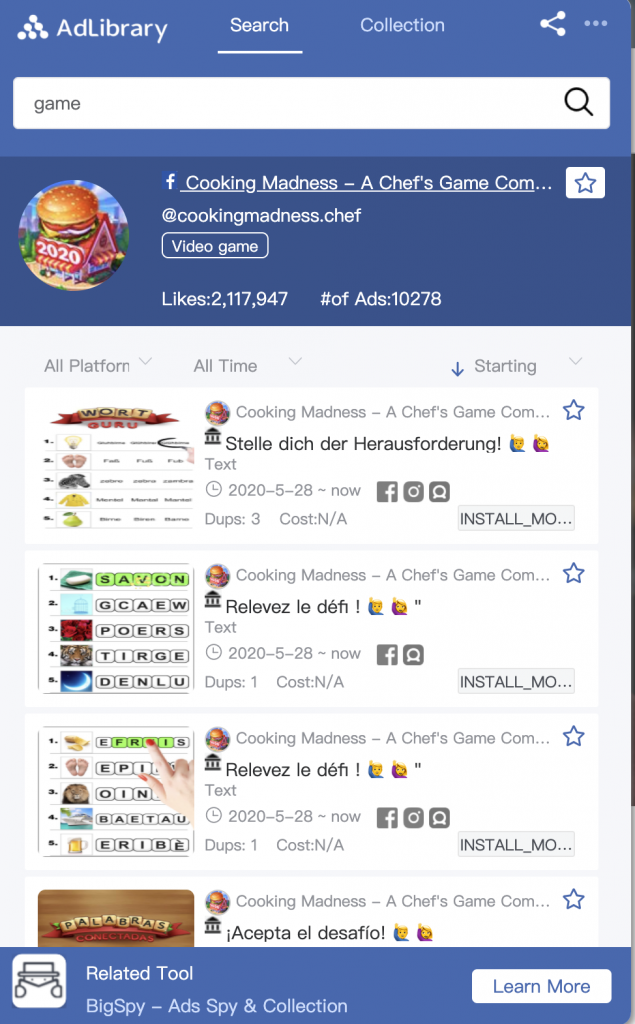 You can see the specific details of the advertisement, including his title, introduction, CTA and other basic information.Your colleagues can also filter by platform and time. ,and save the ads you want to track at the same time.
From this picture,we can see that AdLibrary will analyze recent changes to your saved ads.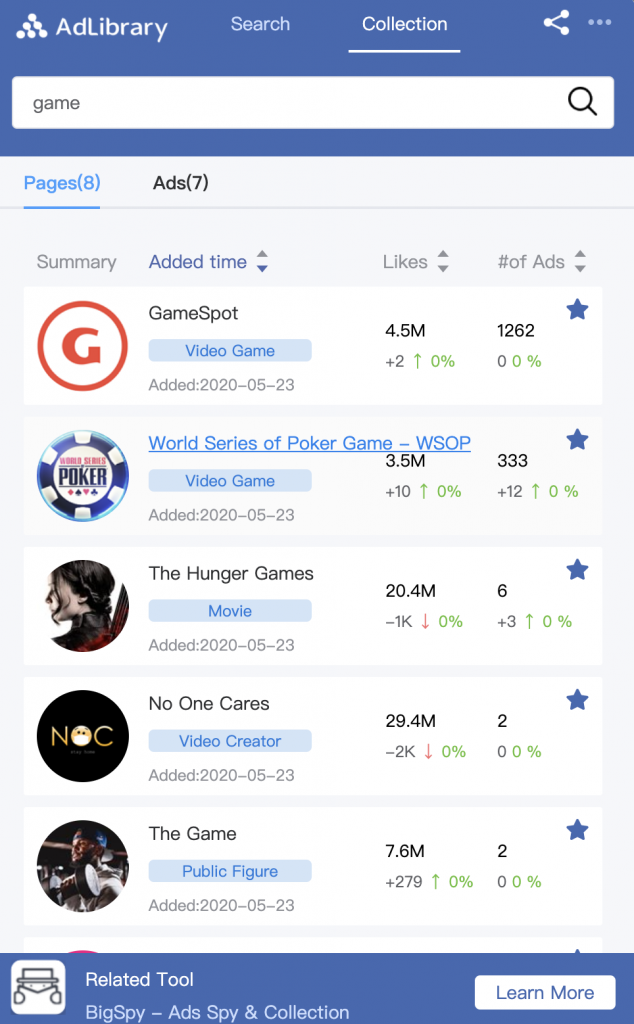 Features
A convenient Facebook Ad finder or Facebook Ad checker :.
Adlibrary uses the simplest and fastest way to let you find the creatives you are interested in in a short time. No complicated steps and difficult platforms are required. You can search for advertising content as easily as Google. Anyone with the link is able to view and search for ads by brands, publishers, and influencers in the AdLibrary. However, if ads include certain types of restricted content (alcohol or gambling, for instance), Facebook won't show the ads to underage or logged out users.
Save and track Facebook pages and ads.
In the past, finding the ads your competitors were running on Facebook wasn't a straightforward process. Sure, you could go to their profile and scroll through their posts to get an idea of their overall social voice or organic posts, but there was no a convenient way to know what ads they were advertising,now,you can use the AdLibrary to track your competitors' ads,and know its details.
Professional Facebook's Ad performance analysis.
The AdLibrary will show you a page's ads performance– You can't find these data on Facebook AD librarys. You can see the recent data changes of the pages you have collected, as well as the rising trend of ads and other data. Later we will also support viewing the display volume and heat changes of ads. In the next period of time, we will enhance the functions of advertising data analysis to provide you with better and more convenient advertising services.
Now completely free to use